Products & Solutions
27 Sep 2023
---
In the dynamic realm of fleet management, maintaining a competitive edge necessitates innovative solutions that control expenses, enhance safety, and champion sustainability. Arval, a pioneering leader in leasing services and mobility solutions, rises to this challenge with its groundbreaking offering – Arval Connect. This comprehensive connected solution not only streamlines fleet operations, but also supports the acceleration of the transition towards sustainable mobility, making significant strides towards energy efficiency.  
The Challenge
Consider a multinational corporation operating a vast and diverse fleet across various vehicle brands, types and operations. The challenge at hand encompasses optimizing vehicle utilization, electrifying the fleet, reducing Total Cost of Ownership (TCO), promoting good driving practices and maximizing electrified vehicle efficiency – all while placing paramount importance on saving energy. With Arval Connect, there is a holistic approach to address these multifaceted challenges, leveraging data-driven insights, innovative tools, and personalized support. In the process, it aligns seamlessly with the mission to enhance energy efficiency. Here is a comprehensive look at how Arval Connect tackles each dimension of fleet management. 
Usage Optimization: A path to Efficiency 
Arval Connect delves into the wealth of fleet data, as it encompasses metrics such as mileage, mileage per road type, fuel consumption, detected fill-up events, driving events, activity days, stop durations, real-time geolocation (if subscribed), charging events and CO2 emissions, etc. This rich dataset forms the bedrock for actionable Key Performance Indicators (KPIs), which can be used by clients to establish concrete objectives. This is where Arval Connect identifies vehicles with low activity and low mileage, encouraging the transformation of these assets into Car sharing vehicles. The result could be not only a more optimized vehicle usage, but also a profound reduction in the fleet's environmental footprint due to car sharing solutions. As an example, a utility company based in Italy managing a fleet of 400 vehicles, leveraged Arval Connect to identify underutilized vehicles, with an opportunity to convert 15% of the fleet into car sharing pool vehicles. 
Fleet Electrification: Pioneering Sustainability 
For companies managing a predominantly ICE (Internal Combustion Engine) vehicles fleet, Arval Connect's data intelligence serves as the guide for electrification. As a key example, a client company based in France, with a fleet of 1,200 vehicles from which 93% run on fuel benefited from Arval Connect experience on electrification. With Arval Connect insights on real daily mileage, mileage per road type and per trip together with data of available EV parking slots provided by the client, electrification opportunities were pinpointed. From there, Arval Connect recommended the optimal vehicles for electrification, catalyzing a monumental shift – from a purely fuel-reliant fleet to one that is 80% electrified. The outcome not only aligns with sustainability objectives but also translates into reduced fuel consumption, a decisive step towards energy efficiency.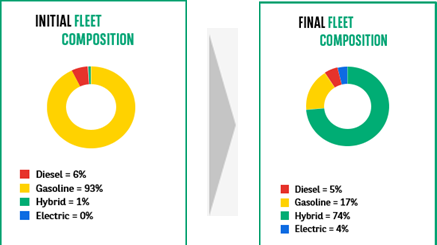 With Arval Connect's fleet electrification data, the overall fleet knew an 80% decrease in fuel-powered vehicles and a 73% increase in Hybrid adoption, an opportunity to contribute to a significant decrease in CO2 emissions. 
TCO Optimization: Cost reduction and well-performing operations
Another success story showcased reduction in accidents and fuel consumption for a multi brands company based in the UK. Arval Connect delivered actionable insights, spotlighting the issue of heavy fuel consumption due to idling time. 
With the assistance, KPI dashboards, drivers league tables, clients' managers were able to intervene and set driver training sessions according to the fleet and driving performance. This resulted in accidents going down by 25%, fuel consumption dropping by an impressive 16% and idling time reduced by a remarkable 41%, amounting a total of 70€ monthly savings per vehicle. 
This initiative translates into tangible cost savings while promoting  responsible driving, consequently acting on fuel reduction, which leaves the question about the direct correlation between driving behaviour and fuel consumption. 
Eco-Driving Score: A Catalyst for Energy-Saving 
Arval Connect data scientists worked on measuring the impact of Eco-Driving Behaviour on real fuel consumption, and convert Eco-Driving Score Improvement into CO2 and cost reduction. 
The comprehensive study spanning 18K vehicles with an observation of over 13 months uncovered a compelling connection: Higher Eco-Driving Scores directly correlate with reduced fuel consumption, and even modest improvements in the Eco-Score yield substantial monthly fuel savings, as shown below: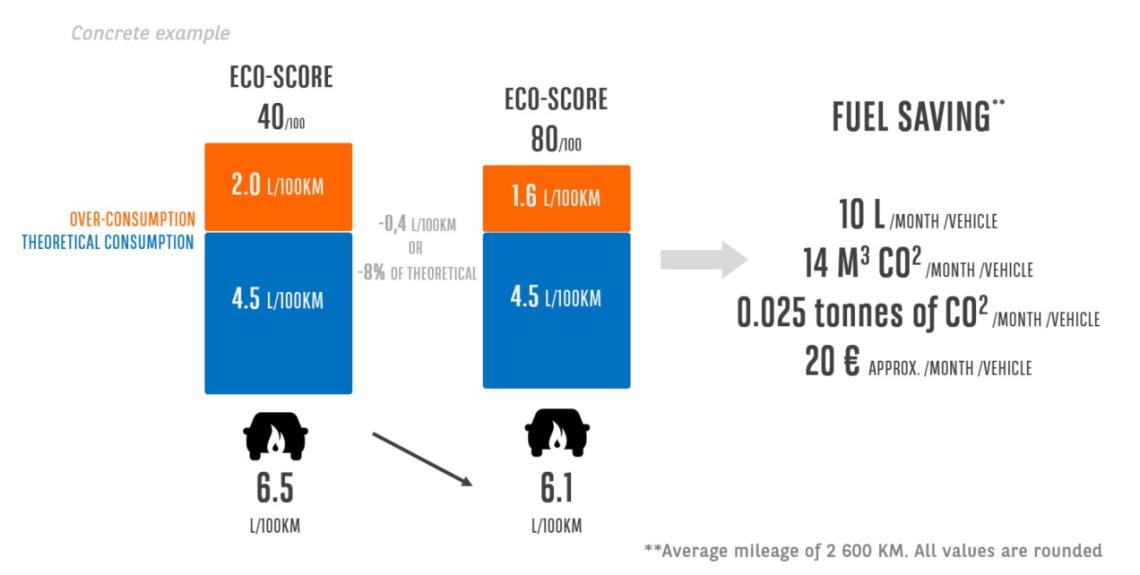 This study shows how an increase in Eco-driving score helps reduce fuel consumption: as shown in the graph above, a 40-point increase in the Eco-Score can contribute to fuel savings of 10l/month, which is about 0,025 tons of CO2 emissions. 
Promoting better usage of Plug-in Hybrid Electric Vehicles
Arval Connect enables Fleet Managers to monitor battery charges and thus optimize energy consumption. Analysis carried out by Arval Connect data scientists has shown that frequent battery recharges has a strong and direct impact on fuel consumption.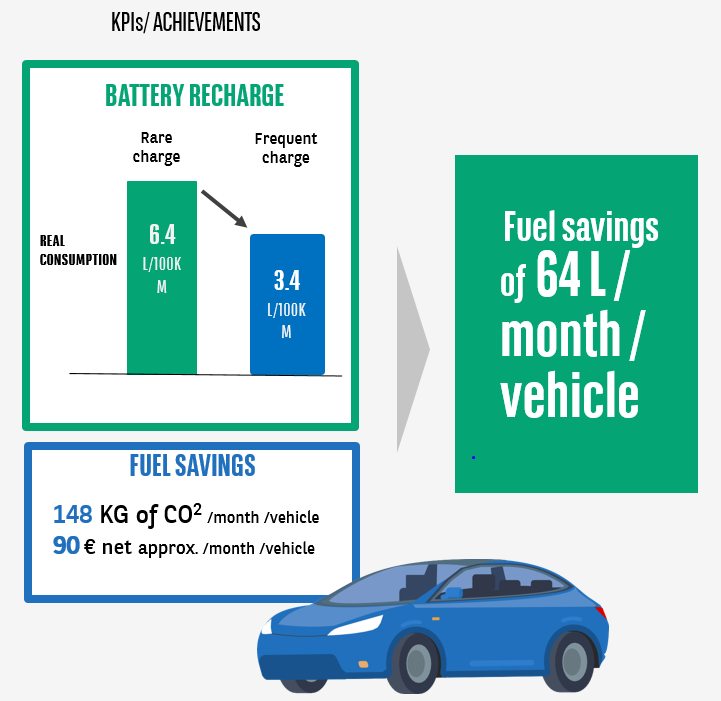 * Average mileage of 2100 KM/Month. Net savings considers fuel cost and electricity recharge cost
PHEV vehicles with rare charges register real fuel consumption of 6.4l/100km. With frequent charges, the same vehicle consumption goes down by 3l/100km. Consequently, monthly fuel savings account for 64L per vehicle, equivalent to almost 150 kg of CO2 emissions for an average monthly mileage of 2100 kms
Deployment of connectivity is rocketing
Harnessing data has become increasingly essential for expediting the energy transition and exercising enhanced cost control, supported by a wealth of well-established use cases. Arval Connect serves as a catalyst, aiding customers in the successful implementation of connectivity. To date, more than 15,000 customers have embraced this solution, resulting in a connected Arval Fleet that has surpassed a staggering 500,000 vehicles. By 2025, Arval's objective is to have 80% of its fleet connected.