Products & Solutions
20 Sep 2023
---
In today's rapidly evolving world of mobility, safety and sustainability remain crucial themes that dominate discussions. To respond to that, Arval, a leader in long-term leasing services and mobility solutions, has unveiled in 2022 an exciting programme in Italy named "Arval Driving Rewards". This innovative initiative not only encourages safe driving, but also offers substantial rewards for individuals who embrace responsible driving practices.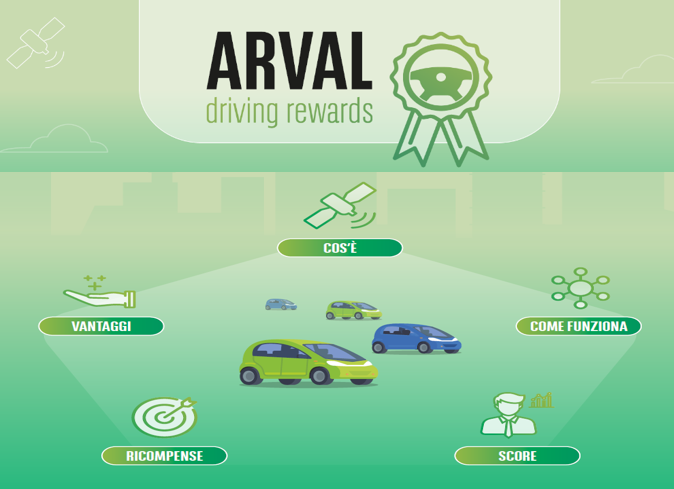 This article delves into the specifics of the programme, elucidating how it benefits individuals and contributes to a safer environment and more sustainable conduct on the road. 
How Arval Driving Rewards Operates
Arval Driving Rewards relies on an advanced technology to monitor and incentivize responsible driving. Powered by Arval Connect, each Arval leased vehicle comes equipped with a "connected box" that, upon activation, becomes an attentive observer of your driving style. The collected data is meticulously processed and filtered to generate driving scores. The programme operates on two primary scoring categories, offering significant rewards to participants. The service is completely free and available for all Arval Private lease clients. 

 
Safe Driving Score - Paving the way to rewards
The Safety Score, graded on a scale from 0 to 100, is the first category within Arval Driving Rewards. It takes into account various parameters, including braking habits, lane changes, curves and speed, among others. To be eligible for rewards, participants must achieve a monthly safety score that meets at least one threshold of excellence. The incentives range from 5 euros for scores of 85 to 89 points to 10 euros for scores above 90 points monthly. Embracing safe driving practices can lead to annual savings of up to 120 euros.
 
Eco-Driving Score – Forging a Sustainable Tomorrow 
In the realm of eco-driving, Arval Driving Rewards introduces the Eco-Driving Score. This score evaluates parameters such as the relevance of accelerations, idling, or maintaining moderate speed. Achieving a high Eco-Driving score is key to minimizing energy consumption and therefore contributing to limiting environmental impact. 
Advantages Beyond Rewards 
Beyond the visible rewards, Arval Driving Rewards works to generate benefits for all stakeholders. Responsible driving enhances safety on the roads for everyone, and not only for Arval customers. Embracing Eco-driving practices also contributes to fuel consumption reduction and helps cut down on emissions for each trip. Furthermore, the connected box technology helps protect against theft and insurance fraud. And to keep the incentives going, Arval periodically introduces promotion campaigns for the rewards throughout the year, ensuring participants have ongoing opportunities to get even better in their driving behaviors. 
The Rewards Payout 
As Arval Driving Rewards will soon celebrate its one-year anniversary and cross 500 users, reviews and feedbacks received so far are very satisfactory. From a safety perspective, during this first year, the programme users have demonstrated fewer collisions than Arval historical portfolio of customers. 
Arval Driving Rewards in Italy is more than just a programme, it is a commitment to making our roads safer and our actions more responsible towards the environment. By incentivizing prudent and responsible driving practices, it empowers individuals to make a positive impact while enjoying the benefits of lower fuel consumption and an improved driving behavior. Whether a seasoned driver or just starting, Arval Driving Rewards invites you to put your driving skills to the test and reap the rewards depending on your sense of responsibility. In addition to Italy, the offer will be soon available in Spain starting in 2024, and will extend its positive impact in more countries in the years to come.