WHY BIKES ARE BOOMING AS BUSINESS TRANSPORT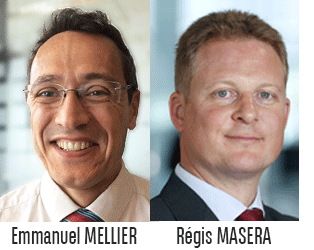 One of the most noticeable trends resulting from the pandemic has been a boom in bicycle sales and use, with many countries registering record numbers of purchases in 2020. At Arval, we can report with certainty that this continuing phenomenon has fed through into the business world, with hugely increased demand from employers and employees for bike-based mobility solutions. We spoke to Emmanuel Mellier, Marketing Manager at Arval, and Regis Masera, Consulting Director at Arval France, about the trends they are seeing.
Could you tell us about how the pandemic has affected bike use by businesses?
EMMANUEL: All the available figures show bike use is increasing rapidly. EU total bicycle sales were up by 23% last year while, if we look at e-bikes specifically, their number increased by more than 500,000 in France and two million in Germany during 2020.
As part of this, interest in bikes for business use has also been growing over the last few years and Arval has provided solutions to meet this demand. However. the pandemic has seen a definite and marked acceleration, and the most recent Arval Mobility Observatory Barometer underlined this trend.
REGIS: There is massive enthusiasm for bikes. Last year, five times as many eBikes as electric cars were sold in France. Working patterns have changed following the pandemic, in some cases quite dramatically, and people have become more open to new mobility ideas. As part of that development, many of them now believe a bike is a transport solution that could work well for them.
How do bikes fit into Arval's wider mobility proposition?
EMMANUEL: Our mobility thinking is all about providing, on top of cars, a wide range of options that are suitable for different business transport needs. Bikes are an important part of this, providing convenient, cost-effective, zero emissions transport for local journeys.
REGIS: It is becoming clear that post-pandemic mobility is all about flexibility. People no longer want to automatically make the same old trips in the same old ways but instead think proactively about their journeys. Bikes fit very well into this mindset.
What kinds of bikes are proving most popular?
EMMANUEL: We're seeing growth right across board – from manual bikes and e-bikes to speed-bikes and cargo bikes. One of the advantages of bikes is that they provide a range of different answers to a range of different needs, and people are increasingly aware of their advantages for all kinds of applications. In fact, bikes have been so popular during and following the pandemic that many models are in short supply, and Arval has been working hard to ensure our customers can get the bikes that they want, when they need them.
Is bike use mainly an urban phenomenon?
EMMANUEL: There is no doubt that bikes work very well in cities and one of the interesting trends we have seen is that bike use helps people to plan their working day more effectively. Because you are very unlikely to be delayed by traffic and storing the bike is much easier than parking a car, you are never late for a meeting.
REGIS: There is an interesting developing occurring with eBikes at the moment that we have seen in France. With physical bikes, we've tended to see average journeys of 5-10km but eBikes mean that people are happy to tackle longer distances, more like 15-20km. That opens up bike use to longer journeys in more areas.
How has Arval been developing its bike proposition?
EMMANUEL: Arval has been working hard on its bike offering for several years and it is now very comprehensive. There are bike products available in 10 countries in which Arval operates and we plan to extend this to 30 by 2025.
Our bike proposition is tailored to each country but, in many places, Arval's core idea is what we call a four-plus-two-wheel solution, where we offer a bike leasing alongside a car leasing contract. This works well for many people who may choose to use their car for longer journeys and their bike on local trips. It is an excellent example of the new mobility thinking.
Does Arval offer a full range of bike support services?
EMMANUEL: Yes, it is very much a complete package in exactly the same way as if you leased a car from us. Arval offers bike solutions for companies and for individuals, too. We can provide insurance, maintenance, repair and security options; there are B2B, B2C and B2E models of provision; and acquisition solutions are available including leasing, free-floating and bike sharing.
One important point to make is that in each country where we offer bike services, we look for the best local supplier for each element of our offering. Our partners are very important in ensuring that we meet and exceed customer expectations.
Do you see increased bike use in places where there is investment in infrastructure?
EMMANUEL: Certainly. In many cities all over the world, local and national government are looking to increase cycling and where there are bike lanes or other specialist bike infrastructure, people feel happier about using a bike for their everyday journeys.
REGIS: In France, we are seeing a lot of investment including 40 km of bike superhighway being created in Paris, which has created a lot of interest in corporate use of bikes.
What support does Arval provide to people who might be returning to cycling after some years?
EMMANUEL: When the bike is delivered, we can provide a complete familiarisation process including the kind of riding conditions you are likely to find. Plus, if the corporate client wants more, we work with several partners who can provide assistance. Importantly, we find that the more people cycle, the safer they become as a cyclist.
Are there government incentives in place to promote bike use?
EMMANUEL: There are various tax and other incentives in place both locally and nationally in many of the countries in which we operate. Arval's knowledge of how to maximise the benefits of these for employers and employees is very detailed, such as cafeteria schemes in Belgium where employees choose benefits from a list of benefits and salary sacrifice initiatives in Germany using a digital platform. All of these help to make bikes increasingly accessible to more employees and employers.
What do you see as the future potential for bikes within Arval?
EMMANUEL: The factors that are leading to increased bike use – changing working patterns, the need for reduced emissions in urban areas, and the requirement for flexible and convenient mobility solutions – will all be present for many years to come, so we believe that there remains considerable unrealised potential for bike adoption. It's a very exciting moment.