End-to-end solutions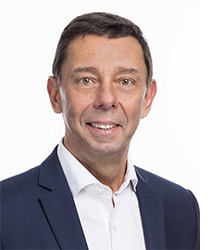 Mobility is not just about providing concrete solutions to move from point A to point B. It is also about acting with the entire ecosystem to reach a positive impact. That is Arval's ambition with the BNP Paribas Group to support its clients in their mobility needs.
Alain van Groenendael, Arval Chairman and CEO, expresses his views on this at the occasion of the Autonomy World Expo 2023, the international event bringing the world's mobility makers together!
What projects is Arval undertaking to support the mobility ecosystem?
To help its clients with energy transition, Arval offers end-to-end solutions from consulting phase to implementation. In this context, electrification is key, and Arval facilitates EV adoption by offering a complete package (advice, charging point, car…). For companies requiring alternative employee mobility solutions, Arval offers car sharing, bike sharing, leased bikes, scooters etc…. These solutions can be bundled within the Arval Mobility Hub which for instance, was deployed at the BNP Paribas Real Estate Headquarters in France. In addition, thanks to strong partnerships, such as the one with Ridecell for car sharing, Arval continues its successful offering of integrated solutions to its clients. Last but not least, innovation and investment in new technologies such as the autonomous shuttle or V2G remain essential to Arval.
What is the next major opportunity in mobility according to Arval?
In a challenging environment, flexibility is a growing demand from clients. At the same time, we see connectivity as another major opportunity as it helps companies optimise the control of their fleet costs and accelerate energy transition.
What is the key goal of Arval's involvement in the mobility ecosystem?
With the launch of its strategic plan 2020-2025, Arval Beyond, Arval announced a strong ambition: not only strengthening its historical business model, but going beyond it to become leader in sustainable mobility. In line with BNP Paribas' strategic goal to position itself on the entire mobility value chain, Arval is a major contributor to the Group's integrated model. Its key role within the partnership between BNP Paribas and Jaguar Land Rover is tangible proof of this.